↓ Transcript
Wolfie: I've met someone, and I think I'm in love

Witch: That's great! Tell me a little about her.

Wolfie: Well… she's a German Shepherd…

Witch: Oh wolfie. I can understand the animal lust you feel…
But you must know it's wrong.
You'll have to split up with her.

Wolfie: Helga, it's not you, it's me…

Helga (a stereotypical German woman, holding a crook): I understand.
A love as strong as ziss voss never meant to last.
I vill
return to Deutschland to tend to my sheep.


by Mark
on
April 24, 2013
at
7:14 am
We're delighted to announce a lttle project that we've been working on for some time now: Monsters, Inked is going back into print, courtesy of Dead Universe Publishing.
'Monsters, Inked Collected Classics Volume 1′, to give the title its full name, is a collection of our first 38 MI comic strips, including all the ones that were originally published in The Bucks Herald newspaper. In addition there are loads of snippets of associated trivia, and some behind the scenes insights too, all packaged into a lovely, colourful 28 page comic book.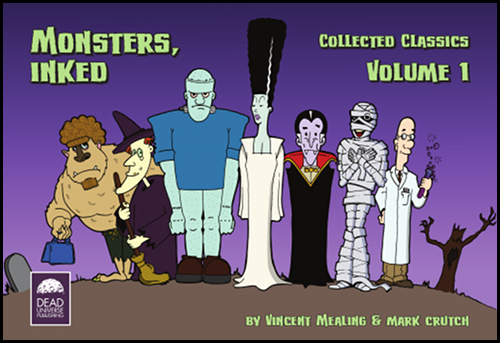 It will take a few days to get the book printed, but there should be copies available in time for Free Comic Book Day (May 4th), when various Dead Universe writers and artists will be on hand to chat and sign their wares in Aylesbury's Friars Square Shopping Centre.
Huge thanks especially to Lorraine at Bluepepper Designs who has done a lovely job of typesetting the book.